We would like to introduce the social contribution activities we are working on.

As stated in our corporate philosophy: Our mission is to eternally develop Fukushima.
As a member of the local community, we are engaged in activities so that we can contribute to Fukushima as much as possible.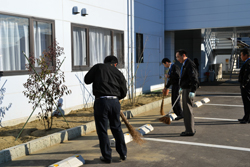 We carry out cleaning activities around the head office on the 1st of every month.
We also participate in the "Citizen's Whole Body Movement to Clean Iwaki Town" and strive to clean the local environment.



We are committed to the development of companies and the development of the region for children who will go towards a brighter future.
As part of this, we asked the children of Hokutoku Kindergarten to draw a mural on our parking lot.
With this picture as our symbol, all employees will work together to make further efforts.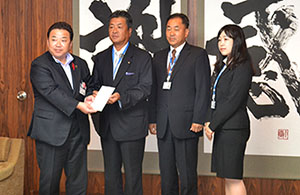 Our company is one of the companies affected by the Great East Japan Earthquake.
It is thanks to everyone in the area that we are able to continue working in Iwaki.
We donate to Iwaki City, etc. in order to help everyone affected by the disaster and to recover the affected area as soon as possible.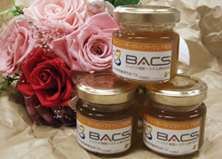 We have been breeding honeybees on the premises since the time our company building was in Ueda, and we also supported the "Iwaki Nakoso Honeybee Project".
We continue to breed bees on the site of the current head office in Onahama. In addition, we have created a flower bed on the premises, aiming to create a recycling-based town centered on bees.